Although Felix at The Peninsula Hong Kong might once have be known best for its views from the bathroom (they have to be seen to be believed) and its molecular cocktail menu (delicious!), the new chef behind it all has made it his mission in 2012 to put the restaurant's modern European fare back on your radar.
If you eat there once, you know his plan is working. We were able to get Chef Yoshiharu Kaji to take a break from the kitchen to dish on his plans, the menu and what makes one of Hong Kong's most iconic restaurants tick.
LSA: After three years at The Peninsula Tokyo you moved to Hong Kong to run Felix. How do you like Hong Kong so far?
Yoshiharu Kaji: I've really grown to like Hong Kong, partly because the city's very lively, people are extremely kind and the dining scene is experiencing a renaissance of sorts. It's an exciting time to be here.
LSA: If we're entering a culinary renaissance here, what's one trend you'd like see take off amongst Hong Kong chefs?
YK: More home-style, personalised interpretations of culinary genres – a bit like the way we do it in Tokyo. Hong Kong seems to be on the cusp of this.
The Felix food complements the molecular cocktails at the Long Table.
LSA: What kind of mark do you want to make in the Hong Kong culinary scene?
YK: The mark of success for me is guests who say they're surprised and delighted by the cuisine at Felix.
LSA: What is the most memorable way a guest has shown his appreciation to you for a delicious meal?
YK: They've personally come into the kitchen to tell me how much they loved my cooking! That's when they see that it's a team effort – which is a great way for me to give my hardworking team that credit. I'm a big believer in paying it forward.
LSA: Felix gets a wide range of local and international guests. How do you cater to all tastes?
YK: I try to follow my own culinary agenda and take it from there. As a chef, you need to believe in your gastronomic style and the direction you're working towards.
I do like to garner guest responses, however, when I meet them tableside and, through building a rapport together, get their views on specific dishes and what appealed to them most.
I also like to infuse a lot of variety into my menus. Different tastes, cooking styles and a variety of the best seasonal produce are all signatures elements of the Felix culinary experience.
Love Felix and want to know more about The Peninsula Hong Kong, click onto "The Peninsula Hong Kong Lifestyle Academy".
LSA: Can you tell us about one time you went above and beyond to accommodate a guest's request?
YK: Guests with special dietary requirements frequently ask if I can create a salt-free meal, or a carb-free one for them. I've also created a 100 percent vegetarian menu at Felix in conjunction with our existing menus, so that vegetarian guests don't have to spend ages picking and choosing what they can or can't eat.
I also tend to know what my regulars like, and enjoy gauging their reaction after dinner. My signature dishes are a good starting point and I like to customise from there, depending on the guest's needs.
LSA: What is your favourite dish on the Felix menu? Why?
YK: My favourite dish currently is the "Roasted Australian lamb with garlic cream croquette, fried mini potato, dandelion and walnut salad." This dish really brings out the flavours of spring as reflected in the ingredients, colours and presentation on the plate.
I guess you could say this dish embodies my culinary philosophy in a nutshell: clean, simple and seasonal. I like to create a menu that reflects the flavours, moods and the finest specialties of the season.
LSA: What is your signature dish on the menu? Why?
YK: "Grilled Red Tuna, Braised Bell Pepper and Tomato, Caramelised Pineapple, Soy Vinaigrette". I think the combination of the tuna and pineapple, tuna and soy sauce, and tuna and bell pepper is a compelling mix of subtle flavours and salty versus sweet.
This dish is a combination of my favourite ingredients. The vinaigrette uses Japanese soy sauce and Mirin (rice wine) to add to the Japanese flavour of this dish, which is very much a marriage of Japanese and Western culinary traditions.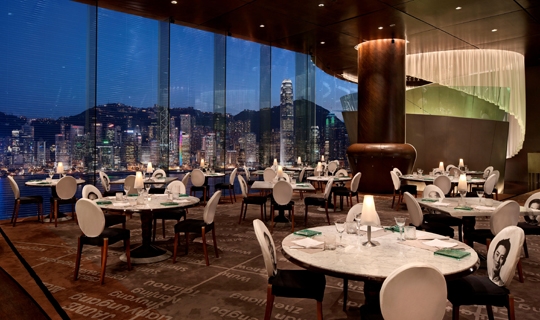 Philippe Stark's design blends well with Felix's modern European fare.
LSA: What would you say is your signature technique? Why?
YK: I employ a variety of techniques in my cooking, and although my cuisine is modern-European, my cooking is not restricted to any single technique. I like to get creative.
LSA: What's one thing readers don't know about you but should?
YK: That I'm both detail oriented and an adventurer. I hope this comes through in my cooking!
LSA: What's one thing readers don't know about Felix but should?
YK: That we mix unique, molecular cocktails at the Long Table that are different from those at the American Bar upstairs.
Felix, The Peninsula Hong Kong, Salisbury Road, Kowloon, Hong Kong, +852 2696 6778, www.peninsula.com
This article was sponsored by The Peninsula Hong Kong.