Masu Robatayaki and Sushi gets its name from a small, wooden box used to measure a person's daily rationing of rice back in Japan's feudal times, which was later used for sake drinking.
Celebrating its grand opening on Wednesday, 18 July 2012, Masu Robatayaki and Sushi aims to provide "the true tastes of Japan for one meal", through fresh local and regional ingredients, traditional Japanese cooking techniques and an impressive array of artisan sakes.
Atmosphere: Located underneath PLAY club in On Hing Terrace, MASU Robatayaki & Sushi is part of the Prive Group and co-owned by Hong Kong celebrity Mango Wong. As such, the crowd is young and hip, with plenty of English speaking overseas Chinese and the usual expat crowd.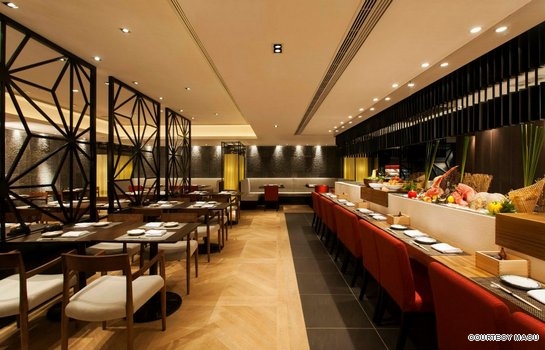 MASU Robatayaki & Sushi boasts a clean and stylish interior.
The restaurant itself features bar seating and an open kitchen to the right, where Japanese chefs prepare sashimi, sushi and robatayaki for all to see. The dining area is comfortable and spacious, with adequate spacing between the tables and a beautiful web-like room divider to offer an open yet private feel.
Food and drink: Our meal started off with the colourful deluxe assorted sashimi (HK$580) platter featuring seven kinds of freshly imported seafood from Japan. The rich toro and sweet scallops were the standouts and paired nicely with our cold Asaka Ginjo sake from Kyoto (HK$110).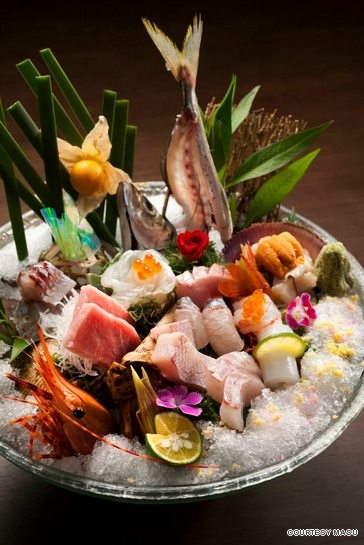 Get a taste of fresh sashimi at MASU Robatayaki & Sushi.
The signature Masu deluxe roll (HK$220) that followed was the star of the night. A luscious combo of seared Wagyu beef, Hokkaido uni, salmon roe and fresh toro smothered the surface of the roll while the asparagus wrapped inside provided a crunchy textural contrast and a light and clean finish.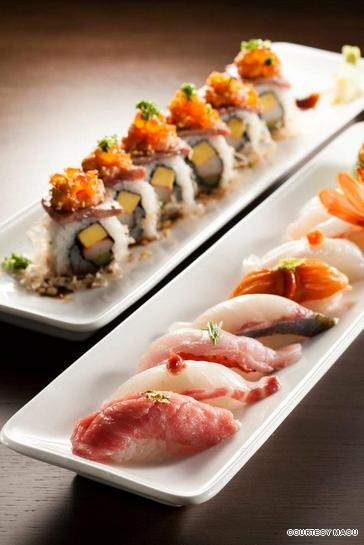 Don't miss the Masu deluxe roll at MASU Robatayaki & Sushi.
When it came to Masu's robatayaki items, the grilled asparagus (HK$68) won us over with its perfectly seasoned and slightly caramelised outer layer. Our favourite hot dish though was the broiled black cod with saikyo miso ($180). The fish itself was cooked to perfection with a charred layer of crispy skin, while the sweet miso dipping sauce complemented the fish with hints of wasabi.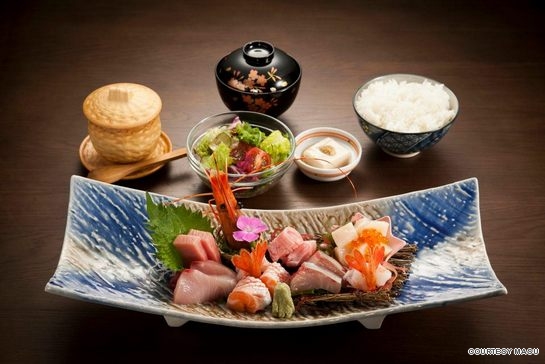 MASU Robatayaki & Sushi offers a variety of lunch sets.
Verdict: With many ingredients being flown in from Japan daily, everything at MASU Robatayaki and Sushi tasted exceptionally fresh, especially the sashimi platter, sushi and seafood on the grill.
We won't be forgetting about the tasty Masu deluxe roll anytime soon, and will definitely be back to help ourselves to a few more rolls and to try their extensive range of lunch sets.
MASU Robatayaki & Sushi, Shop A, UG/F, On Hing Building, No.1 On Hing Terrace, Central District, Hong Kong, +852 2537 7787, www.masu.hk
This article was sponsored by MASU Robatayaki & Sushi.