What's one of the best exports to come from France, besides heady wines, baguettes and fragrant cheeses? Their sinfully decadent macarons, of course!
Equipped with stretchy pants, we ate our way through Hong Kong's macaron patisseries in the city to name our top five macarons (for now — Laduree is opening at Harbour City in November and Pierre Hermé is rumoured to be on its way too!)
1. Le Goûter Bernardaud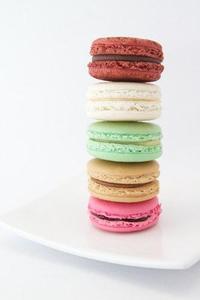 Macarons make a sweet treat for anytime.
Pioneering the macaron craze in Hong Kong is our top pick Le Goûter Bernardaud, which launched here seven years ago. With half the sugar content of regular macarons, LGB has catered its less sweet confections to the Chinese palate and the healthier diets of today.
LGB offers 16 different flavours, including one of the few savoury macaron options, cheese. A perennial favourite, the cheese macaron nicely blends the sweetness characteristic of confectionaries with savoury cheddar cheese. The raspberry and dark chocolate varieties also fly out of the displays, but our choices are the cheese, naturally, and the vanilla with its strong flavour and the permeating pod seeds that guarantees its authenticity.
Individual: HK$15 each
Gift box:  HK$120 for eight, HK$230 for 16
Le Goûter Bernardaud, Shop 2028-2029, Podium 2, ifc mall, 1 Harbour Street, Central, Hong Kong, +852 2820 9675, www.legouter.com
2. Paul Lafayet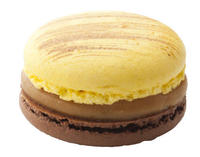 Try Paul Lafayet for a healthier macaron.
Close on the heels is Paul Lafayet, which also boasts the unique quality of using less sugar in their products. With a titan offering of flavours, 18 in total with a goal to reach 30 within a year, regulars opt for Bailey's, rose, chocolate, passion fruit or any of their teas, such as jasmine or oolong. Their wide range of Asian-inspired varieties, like ginger and lychee, make Paul Lafayet one of the most popular patisseries in the city.
Their handmade pastries are made of all natural ingredients, and are a delight to eat. Our favourites among their myriad of flavours are the banana balsamic, which finely balances the fruity sweetness with a subtle tanginess from the vinegar, and the Baileys, which offers a nice bite from the strong coffee liquor.
Individual: HK$15 each
Gift box: HK$100 for six, HK$180 for 12, HK$390 for 24
Paul Lafayet, G23, G/F, 18 Hanoi Rd, Tsim Sha Tsui, Kowloon, Hong Kong, +852 3586 9621, www.paullafayet.com
3. La Maison du Chocolat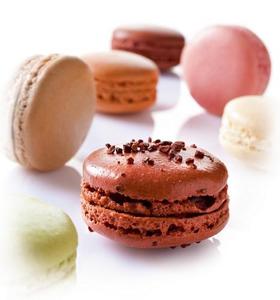 La Maison du Chocolat specialises in chocolate macarons.
From its not-so humble beginnings in 1977 Paris to its expansion into Hong Kong in 2008, La Maison de Chocolat specialises in its namesake, chocolate. So it's not surprising that this chocolatier is one of the few that offers a macaron line filled with chocolate ganache.
Of their 11 year-round flavours and the odd seasonal extra available in summer and at Christmas, the Quito (chocolate), Quayaquil (vanilla) and Rigoletto (caramel) are the most popular.
Chocolate most certainly takes centre stage, so at times overwhelms the more subtle flavour infusions like the pistachio, although this is offset by a slightly floral aftertaste.
However, for the more robust varieties, like Andalousie, La Maison du Chocolat finely balances the chocolate with lemon so the lighter citrus holds its own against the heartier cocoa.
Individual: HK$25 each
Gift box: HK$55 for two, HK$160 for six, HK$310 for 12, HK$600 for 24
La Maison du Chocolat, Shop 246, Level 2, 88 Queensway, Admiralty, Hong Kong, +852 2522 2010, www.lamaisonduchocolat.com
4. Jean Paul Hévin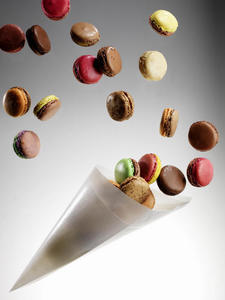 It's a macaron explosion at Jean-Paul Hevin.
Fellow chocolatier Jean Paul Hévin (JPH) also fills his delicate pastries with delicately flavoured chocolate ganache.
JPH macarons have a shelf life of three to four days as opposed to the typical five to seven days, in part due to the quality ingredients, but mainly they retain their optimal freshness until then, as do most macarons.
Amer (dark chocolate) is one of the more popular flavours, along with raspberry, which infuses the fresh berry with chocolate ganache, but our choice was the seasonal option of sakura, or cherry blossom.
The delicate floral taste paired well with chocolate and surprisingly stood its own against what is naturally a stronger flavour.
Individual: HK$25 each
Gift box: HK$125 for five, HK$250 for 10, HK$370 for 15, HK$720 for 30, HK$920 for 40, HK$1,650 for 60
Jean Paul Hévin Boutique and Chocolate Bar, 13 Lyndhurst Terrace, Central, Hong Kong, +852 2851 0633, www.jphevin.com.hk
5. Le Salon de Thé de Joël Robuchon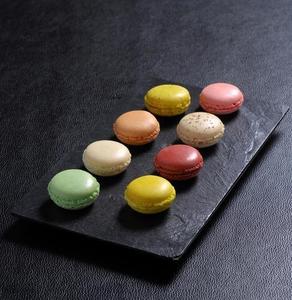 Pretty macarons all in a row.
Part of the Robuchon empire is their tea salon, Le Salon de Thé de Joël Robuchon, which specialises in dainty pastries and to-go items, like light sandwiches, bakery products and cakes. Our focus was the little pearls of vivid macarons. These morsels were much sweeter than others on the list but their daintiness offset the highly saccharine quality.
Caramel and chocolate are perennial favourites but our pick was the raspberry, which surprisingly tasted like candyfloss. Each macaron is redolent of strong almond from the use of the fresh dried nut instead of powder.
Gift box: HK$96 for eight, HK$192 for 16
Le Salon de Thé de Joël Robuchon, Shop 315 & 401, The Landmark, Central, Hong Kong, +852 2166 9000, www.robuchon.hk
Jessica Ng spent her halcyon days of youth in Vancouver before travelling the world and setting up base in Hong Kong. She is a freelance writer and has contributed to many publications, specialising in travel and lifestyle. Visit her website at taradiddling.wordpress.com.