Every time Mid-Autumn Festival comes around, Hong Kong turns into a shopping frenzy for the best mooncakes on offer. But with so many to choose from, it's often hard to decide which place to buy them from.
Here are our top 10 picks for the best traditional and gourmet Hong Kong mooncakes in town.
1. Egg custard mooncakes from The Peninsula
The Peninsula's Spring Moon kitchen can produce up to 12,000 handmade mooncakes a day but you'll need to act quick if you're after these highly coveted delicacies, as they are known to sell out just as quick.
Following a traditional mooncake recipe with egg custard filling, Chef Yip uses rich duck eggs to make the filling before encasing it in a light and delicate pastry.
Simple and traditional, The Peninsula's mooncakes are one of the most sought after each year.
If you make a reservation from now until 30 September for the Autumn Dinner Menu at Spring Moon for a group of four or more, you will receive a complimentary box of these delicious Spring Moon mooncakes.
Each box contains eight mooncakes for HK$528, available for collection from 1-30 September 2012. Place an order by downloading the form from The Peninsula's website from 16 August 2012 onwards.
Spring Moon, 1/F, The Peninsula, Salisbury Road, Kowloon, +852 2696 6760,www.peninsula.com
2. Mini-trunk mooncake cases from the Ritz-Carlton
This year, Ritz-Carlton are presenting two premium mooncake sets. A box of eight mini red bean and chestnut mooncakes for HK$348 along with a selection of eight mini egg custard mooncakes for HK$328.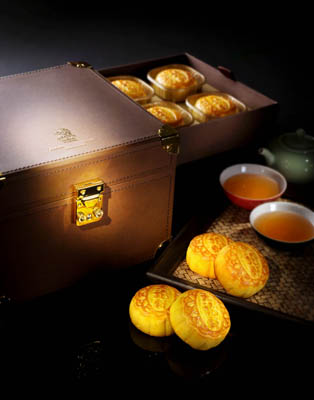 Give the Ritz-Carlton's mini red bean and chestnut mooncakes a try to switch things up.
Both gift boxes are designed as elegant mini-trunks that can be used as a decorative piece for your home or to store your accessories after all the mooncakes have been devoured.
If you order before 15 August 2012, you will receive an extra 10 boxes of mooncakes if you purchase 100 boxes or more. These Hong Kong mooncakes will be ready for collection starting from 1 September 2012.
Ritz-Carlton Hong Kong, 1 Austin Road West, Kowloon, +852 2263 2230,pastrygems.hk@ritzcarlton.com, www.ritzcarlton.com
3. Year of the Dragon mooncakes from Hotel ICON
In collaboration with Project Twelve launched by Culture Laboratory Limited,Hotel ICON are helping to celebrate the twelve animal signs of the Chinese zodiac by creating special Dragon zodiac ("Long Xing") mooncakes.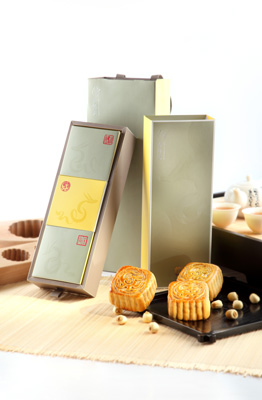 A dragon sculpture based off their mooncake packaging will be displayed on 1/F.
The dragon Above & Beyond mooncakes are made from white lotus seed paste and yolk with a seal designed by contemporary Chinese seal artist Dr. Kenneth Ma. The mooncakes come in a set of three for HK$268 inside a dragon-themed box designed by award-winning designer Chelsia Lau.
If you order their special "Long Xing" Above & Beyond mooncake set before 30 August 2012, you will get a 15 percent discount.
Hotel ICON, 17 Science Musuem Road, Tsim Sha Tsui East, +852 3400 1318,www.hotel-icon.com
4. Mooncake gift box from Mandarin Oriental
Mandarin Oriental's Cake Shop are launching a new mooncake gift box, which will include some of the cake shop's signature items.
For HK$1,388 the Mandarin mooncake gift box includes a bottle of Chateau Guerry Cotes de Bourg 2006 wine, six mini egg custard mooncakes, a tin of ginger chocolate rocks, one jar of X.O. sauce, a box of pu-er tea and 16 chocolate brownies.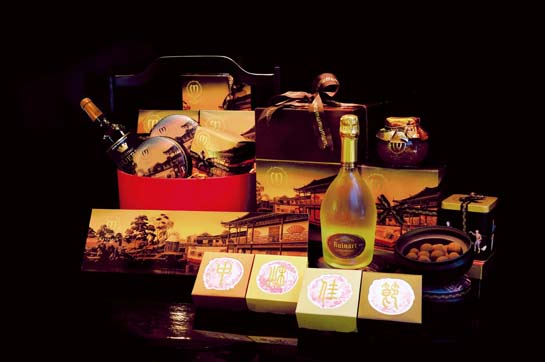 Prepare a mid-autumn feast with Mandarin Oriental's mooncake gift box.
Aside from Mandarin's vast selection of white and golden lotus mooncakes, try a box of six of their new specialty mini-black date paste and pine seed mooncakes for HK$228.
Mandarin Oriental Cake Shop, M/F, Mandarin Oriental Hong Kong, +852 2825 4008,www.mandarinoriental.com
5. Michelin mooncakes from Langham Place
Among the usual lotus and custard mooncakes with egg yolk, the two-Michelin star Cantonese restaurant, Ming Court, has created a super daring black truffle with mixed nuts and parma ham mini mooncake.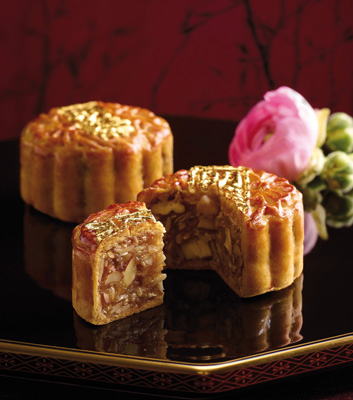 Go for the shock factor with these Michelin gourmet mini mooncakes.
Get eight of these western inspired Hong Kong mooncakes for HK$388 at any of the Langham Hospitality Group's Chinese restaurants (Yat Tung Heen, T'ang Court and Ming Court).
Ming Court, 6/F, Langham Place, Mong Kok, +852 3552 3300,hongkong.langhamplacehotels.com
Carry onto page two for five more Hong Kong mooncakes to buy now for the Mid-Autumn Festival.
%%PageBreak%%
6. Wine-infused mooncakes from Kowloon Shangri-La
In collaboration with Asian master of wine, Jeannie Cho Lee and Château Guiraud, the Shang Palace restaurant at the Kowloon Shangri-La have come up with a new mini custard Sauternes mooncake.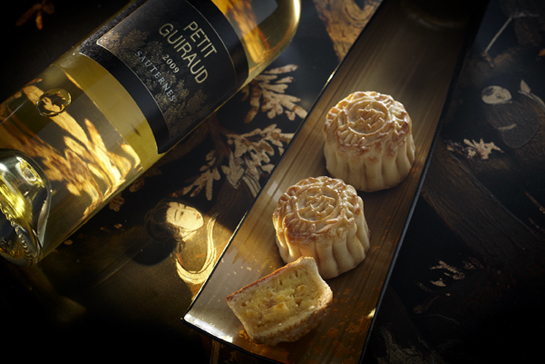 Kowloon Shangri-La are also offering pineapple paste mooncakes with mashed egg yolk.
Instead of adding sugar, a Sauternes sweet wine is added to give a subtle, sweet dash of honey, osmanthus and dried apricots to its the custard filling. They come in a box of eight for HK$288 and a box of 12 for HK$538.
Kowloon Shangri-La's signature Oneness (12 pieces for HK$368) and Celebration cookies (18 pieces for HK$268) are also back by popular demand. Order before 31 August 2012 to receive a 20 percent discount.
Shang Palace, Lower Level 1, Kowloon Shangri-La, 64 Mody Road, Tsim Sha Tsui East, Kowloon, +852 2733 8401, www.shangri-la.com
7. Dark chocolate mooncakes from agnés b.
agnés b. presents their moment préciuex mid-autumn festival collection which includes four selections of their dark chocolate mooncakes in a slide open box (HK$280).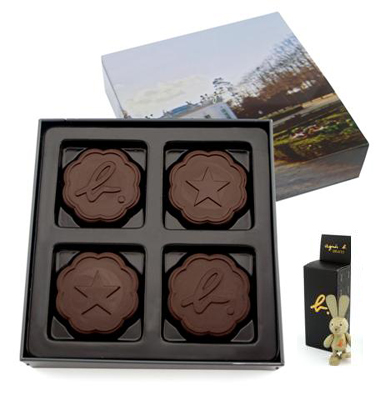 agnés b's moment préciuex collection is perfect for any chocolate lover.
Made from 64 percent dark chocolate, the Hong Kong mooncakes feature a signature b. and star design in four different flavours: Gianduja dark chocolate, lychee dark chocolate ganache with a mango puree center, raspberry dark chocolate with mango puree and dark chocolate nougat with hazelnut filling.
Alternatively, opt for their bonnes fétes mooncake set which includes a cuteagnés b bunny, chocolate mooncake and seven chocolate stars for HK$385.
3/F, agnés b. DÉLICES, ifc Mall, 1 Harbour View Street, Central, +852 2805 0808,www.agnesb-delices.com
8. Truffle mooncakes from Harlan's
To highlight the large tradition and sense of prestige surrounding the Mid-Autumn festival, Harlan's are featuring truffles in their Precious Gems mooncake series.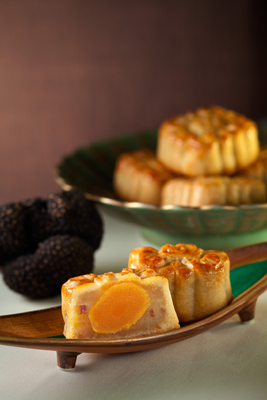 Indulge in truffle-loaded mooncakes from Harlan's this mid-autumn.
Buy a box of Harlan's assorted truffle mooncake (HK$298 for six pieces) and sample all three of their flavours: deluxe truffle and Iberian ham in lotus seed paste, truffle with egg yolk in lotus seed paste and foie gras and black truffle with egg yolk custard. Orders placed from now until 31 August 2012 get 20 percent off.
Harlan's, 19/F, The ONE, 100 Nathan Road, Tsim Sha Tsui, Kowloon, +852 2972 2222, www.jcgroup.hk
9. Parisian-style mooncakes from Jean-Paul Hévin
Joining in on the mooncake craze is Jean-Paul Hévin with his special gold leaf mooncakes made of milk chocolate, crunchy pralines, almonds and crispy rice in boxes of two for HK$198 and four for HK$388.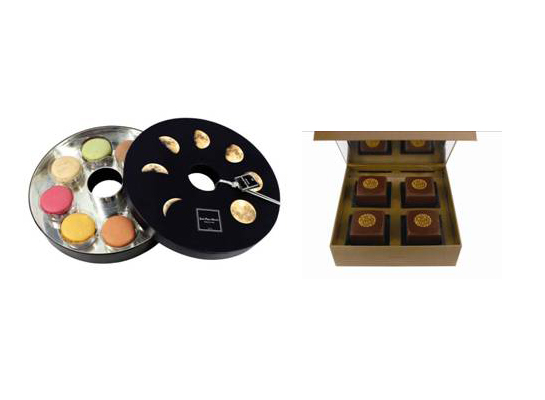 Satisfy your sweet tooth with Jean-Paul Hévin's mid-autumn collection of treats.
Also worth buying is Jean-Paul Hévin's mid-autumn hamper, which includes mooncakes, macaroons, handmade jam, chocolate almonds, bespoke Alain Milliat fruit juice and fin fond chocolate for HK$1,288.
The Mid-Autumn collection will be available from now until 28 September 2012.
Jean-Paul Hévin, 2/F, ifc Mall, 1 Harbour View Street, Central, +852 2111 9700,www.jphevin.com.hk
10. Snow skin mooncakes from Bakerzin
Popular Singapore cake and dessert chain, Bakerzin, are introducing their line of innovative mooncakes. The divine collection features founder Daniel Tay's proudest achievement — his Durian snow skin mooncakes perfect for any durian lover.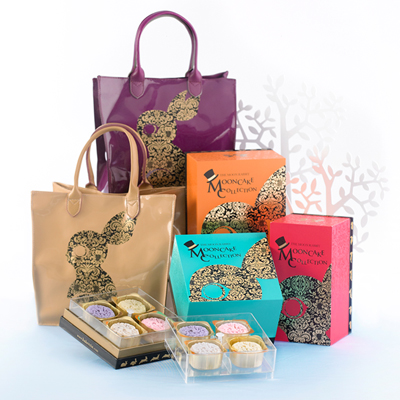 Go for something different with Bakerzin's liquor snow skin mooncakes.
If you're looking for something slightly less adventurous opt for Bakerzin's pink champagne truffle or rum and raisin truffle snow skin mooncake from his Heavenly collection (HK$350 for eight) or stick to the classics with Bakerzin's incredibly light traditional egg yolk mooncakes (HK$350 for four).
You also get a free Bakerzin mooncake tote bag featuring a cute motif of the moon rabit with any Bakerzin mooncake purchase. Get these Hong Kong mooncakes at any SOGO, Taste and Park'n'Shop International supermarket.
Bakerzin, www.bakerzin.com