If you've grown tired of your usual Hong Kong mall (and let's admit, they all start to look the same after a while), you've got to check out LAB CONCEPT at Queensway Plaza, Admiralty. 
First launched in April 2012, the 64,000 square foot shopping centre is a bright and airy space to browse through a fashion forward selection of womenswear at lab concept, try on the latest shoes and accessories from Pedder Group's shoespace, and stock up on all your favourite beauty brands at FACES.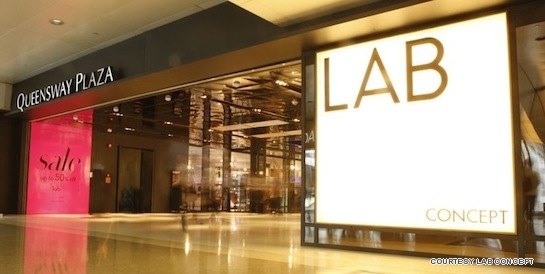 LAB CONCEPT is accessible via exit C1 from Admiralty MTR.
Now in its second phase, LAB CONCEPT has added simplylife, Starbucks, Nobletime bookstore and luxury eyewear store O-O to the mix, with the official grand opening of the entire store in September (and a mysterious special guest from America that we'll all know and recognise, according to the PRs).
Targeted at a younger demographic than Lane Crawford, who are unrelated but owned by the same group, LAB CONCEPT is currently a great place to shop since it's still not that busy. Plus, it's literally designed as a modern fashion playground with nice touches here and there, like: 
1. Hong Kong's first vending machine wall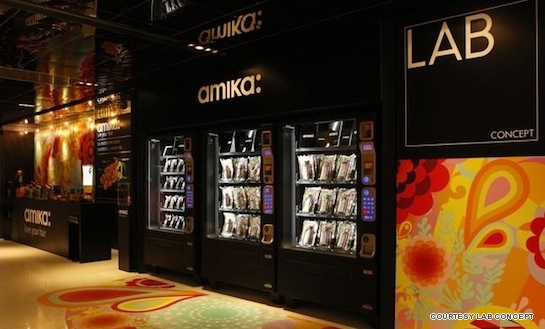 Shopping doesn't get more convenient than this.
Yes, LAB CONCEPT has a wall of vending machines where you can actually 'doot' for real products like branded shampoo, makeup, and the like (which are swapped out from time to time for variety). Just make sure your Octopus card is topped up!
2. Exclusive DOT-DROPS suitcases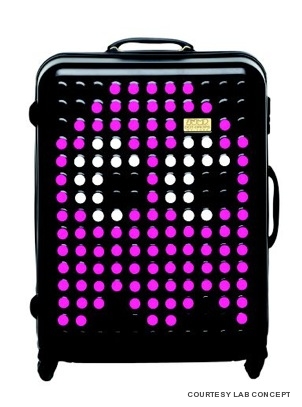 Create your own DOT-DROPS design.
Exclusively sold at LAB CONCEPT, French suitcase brand DOT-DROPS will make sure no one ever mistakes your suitcase for theirs again. Each suitcase comes with a rainbow assortment of 'dot' stickers to create your very own design, from Pacman to your country flag and anything in between.
3. On-the-go hair styling by Amika
Bad hair day? Don't sweat it. Stop by Amika at LAB CONCEPT for a quick fix with their colourful line of ceramic straighteners and curlers. A word of warning though: if you see a Frenchman with a hairpiece clipped to the back of his head, don't be alarmed. He's just demonstrating one of Amika's hair products (we think).
4. Unbiased beauty concierge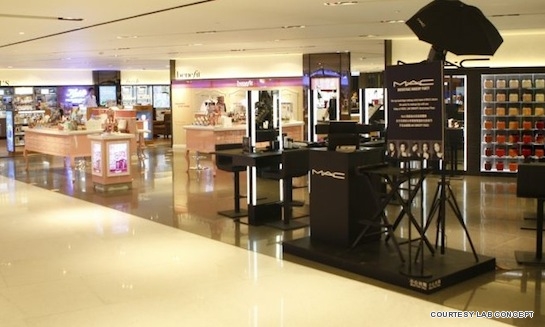 Try all your favourite beauty brands at FACES.
Instead of fending off sometimes-pushy salespeople from each beauty brand, the general beauty concierge at LAB CONCEPT ensures you get exactly what you need — an unbiased opinion and recommendation of the best products for your skin.
5. Plenty of comfort food
With Admiralty being as restaurant-starved as it is, you'll be happy to know that LAB CONCEPT will be fitted with some of Hong Kong's most loved comfort food restaurants including Hakata Ippudo, Crystal Jade La Mian Xiao Long Bao, and Yo Mama. Also coming soon is an Arome Bakery Room to get your carb fix and The Frank for some good ol' hot dogs.
LAB CONCEPT, Queensway Plaza, 93 Queensway, Hong Kong, +852 2118 6008,www.labconcepthk.com, exit C1 of the Admiralty MTR station