Updated on January 29 2014
On an otherwise regular Thursday night in Hong Kong, I'm dangling upside down with my legs entwined in red silk, my head hovering just millimetres off the ground. Ironically, I'm laughing my head off — not by choice, of course — but because the instructor has instructed us to do so, one vowel at a time.
"Aa-ha-ha-ha-ha-ha-ha! Ee-hee-hee-hee-hee-hee-hee! Oh-ho-ho-ho-ho-ho-ho! Now, a wicked one — ah-ka-ka-ka-ka-ka!" he cackled, throwing his head of curly brown hair back.
This is Anti-Gravity Yoga, the latest innovation (or fad, depending on who you ask) in the world of fitness created by Broadway aerial choreographer, former gymnastics specialist and elite coach, Christopher Harrison.
Founded three years ago in New York, Anti-Gravity Yoga has since become a global phenomenon available in Italy, Brazil, Mexico, South Korea, Canada, Australia, Switzerland and Hong Kong. We tried out the 75-minute class at Bodywize Yoga in Happy Valley, where Anti-Gravity Yoga has been offered exclusively since November 2012.
The class
Taking place in a small studio with floor-to-ceiling windows (facing the Happy Valley tram stop and the racecourse), our class of five began with our instructor adjusting the silk ropes to our heights. Pulling down on them with force, he reassured us that each U-shaped hammock could hold up to 1,000 pounds (453 kilograms) safely.
Finding the edge of the hammock, we swung the fabric from side to side to reveal nine feet of red silk fabric, which, when done in unison with our classmates, was a beautiful sight to see. From there, we learned how to mount and dismount safely from the hammock, before diving head first into the postures.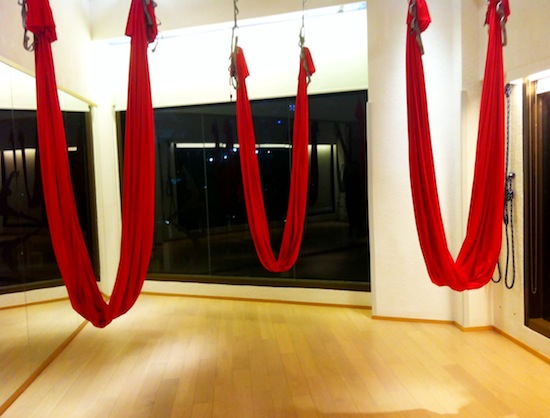 The Bodywize studio for Anti-Gravity Yoga has space for five.
We started with simple poses like Cocoon, where we swung weightlessly inside of our own blanket of silk, before moving onto more difficult poses that involved balancing on one leg, jumping and holding yourself in the air, and the signature inversions of Anti-Gravity Yoga.
With a little help from our instructor (and a lot of faith in the silk hammock), we leaned back and let ourselves dangle upside down, first with our legs in a V-shape and then with the soles of our feet together. Hanging there, I could literally feel my spine lengthening between each vertebrae, along with an intense rush of blood to the head.
Although the inversions were a little uncomfortable (read: red face, bulging eyes and feeling like my head's about to explode), especially with the forced LOL'ing and side-to-side twisting, coming out of them and recovering in a swaying child's pose gave us an enormous sense of relief. 
After a few more inversions and balancing postures, we cooled down with some Swan Dives and Superman poses, where we swung around in unison while lying flat across our hammocks. We even held hands with each other at one point to form a Skydiving pose, which had us all chuckling — this time voluntarily.
Verdict
As a yoga form, Anti-Gravity Yoga definitely has its advantages — it allows you to go deeper into poses with less strain, practice full inversions and hold challenging postures longer and in correct alignment. Not to mention, there are many poses in Anti-Gravity Yoga that you couldn't possibly do on a mat.
As an exercise form, we found the intensity of the class to be pretty mellow (save for the few moments we had to hold ourselves in the air), but the postures definitely work on core strength and flexibility.
At HK$480 a class (with long-term packages available), Anti-Gravity Yoga doesn't come cheap, but we do recommend giving it a try — if not only once to experience the hype. Whether you end up liking it or not, at least you'll come out laughing.
Tip: Wear a shirt with sleeves and long pants, or risk getting silk rope burns on your limbs!
Bodywize Yoga & Day Spa, G/F & 2/F, 1 Wong Nai Chung Road, Happy Valley, Hong Kong, +852 2838 5686, www.bodywize.com.hk